Sheena is the young blond daughter of Cardwell Rivington, who is exploring in Africa with his daughter in tow. When Cardwell dies from accidentally drinking a magic potion made by Koba, a native witch doctor, Sheena is orphaned. Koba raises the young girl as his daughter, teaching her the ways of the jungle and various central African languages. The adult Sheena becomes "queen of the jungle" and acquires a monkey sidekick named Chim. 
 Originally costumed in a simple red dress, by issue #10 of Jumbo Comics Sheena acquired her iconic leopard skin outfit 
 In time, Sheena meets a white hunter named Bob Reynolds (alternately called "Bob Reilly" or "Bob Rayburn"), who becomes her mate. In later incarnations, Sheena's mate is Rick Thorne.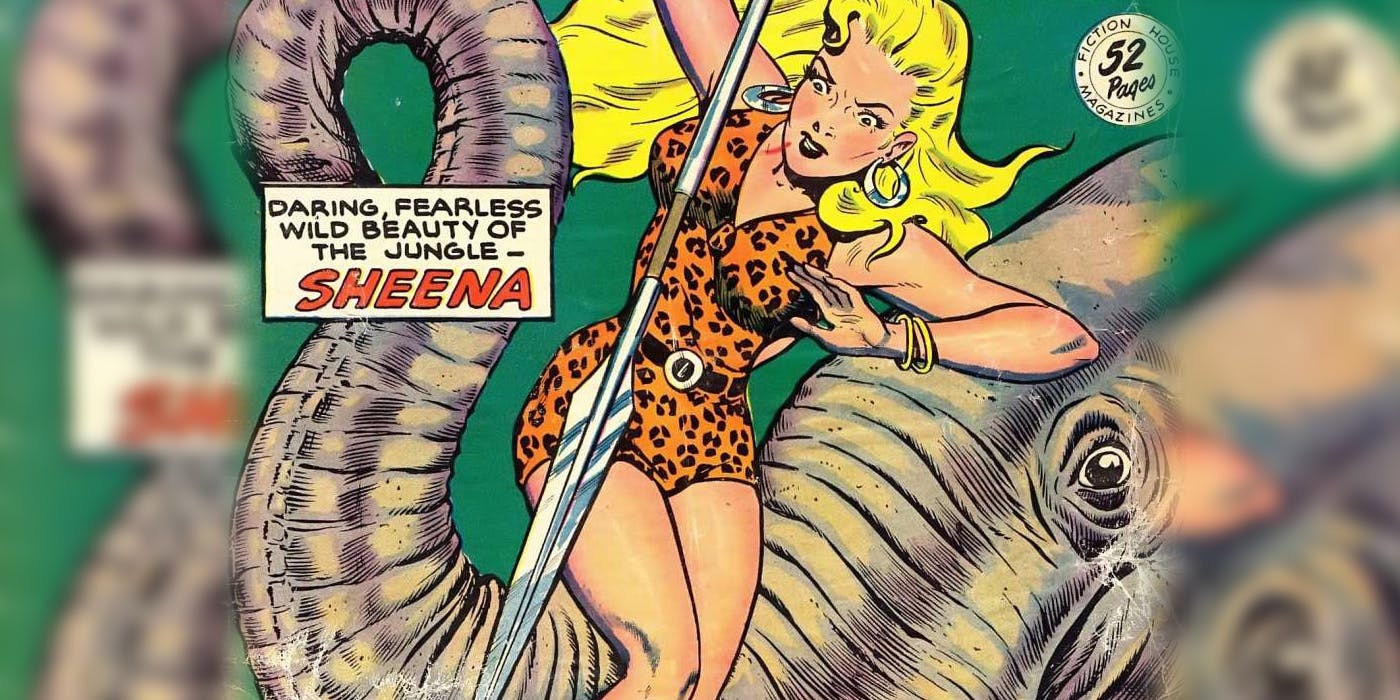 Sheena debuted in Joshua B. Power's British magazine Wags #1 in January 1937. She was created by S. M. "Jerry" Iger who ran his own small studio, "Universal Phoenix Features" (UFP), and who commissioned Mort Meskin to produce prototype drawings of Sheena. UFP was one of a handful of studios that produced comics on demand for publishers and syndicates, and whose client Editors Press Service distributed the feature to Wags. Saying he could no longer afford to pay Will Eisner as a freelancer, he co-founded Eisner & Iger, which continued the work of UFP, but Iger bought out Eisner when (according to Iger) Eisner went to produce propaganda for the US Army but other sources say Eisner left so he could create The Spirit. To help hide the fact their studio consisted only of themselves, the duo signed their Sheena strip with the pseudonym "W. Morgan Thomas". Eisner said an inspiration for the character's name was H. Rider Haggard's 1886 jungle-goddess novel She. 
 Sheena first appeared stateside in Fiction House's Jumbo Comics #1, and subsequently in every issue (Sept. 1938 – April 1953), as well as in her groundbreaking 18-issue spin-off, Sheena, Queen of the Jungle (Spring 1942 – Winter 1952), the first comic book to title-star a female character. Sheena also appeared in Fiction House's Ka'a'nga #16 (Summer 1952) and the one-shot 3-D Sheena, Jungle Queen (1953) the latter reprinted by Eclipse Comics as Sheena 3-D (January 1985) and by Blackthorne Publishing as Sheena 3-D Special (May 1985). Blackthorne also published Jerry Iger's Classic Sheena (April 1985). 
 Fiction House, originally a pulp magazine publisher, ran prose stories of its star heroine in the latter-day pulp one-shot Stories of Sheena, Queen of the Jungle (Spring 1951) and Jungle Stories vol. 5 #11 (Spring 1954)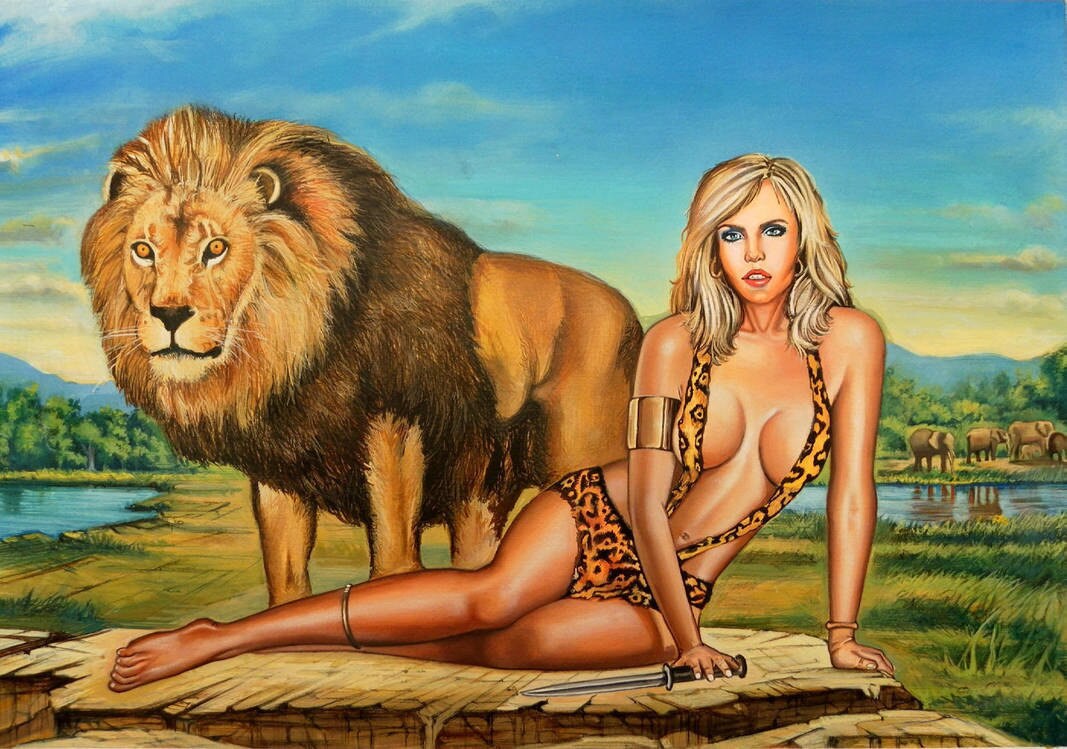 Blackthorne in the 1980s published original Sheena stories in the three-issue series Jungle Comics (May–Oct. 1988). A version of Sheena, transplanted from Africa to South America, appeared in London Night Studios' Sheena, Queen of the Jungle one-shot comic book and subsequent four-issue miniseries (Feb. 1998 – Spring 1999). As well, AC Comics publishes Sheena reprints as well as reprints and some new stories of the jungle femmes that followed in her wake. The 2007 reboot of Sheena, Queen of the Jungle also places Sheena in a South American jungle rather than an African one.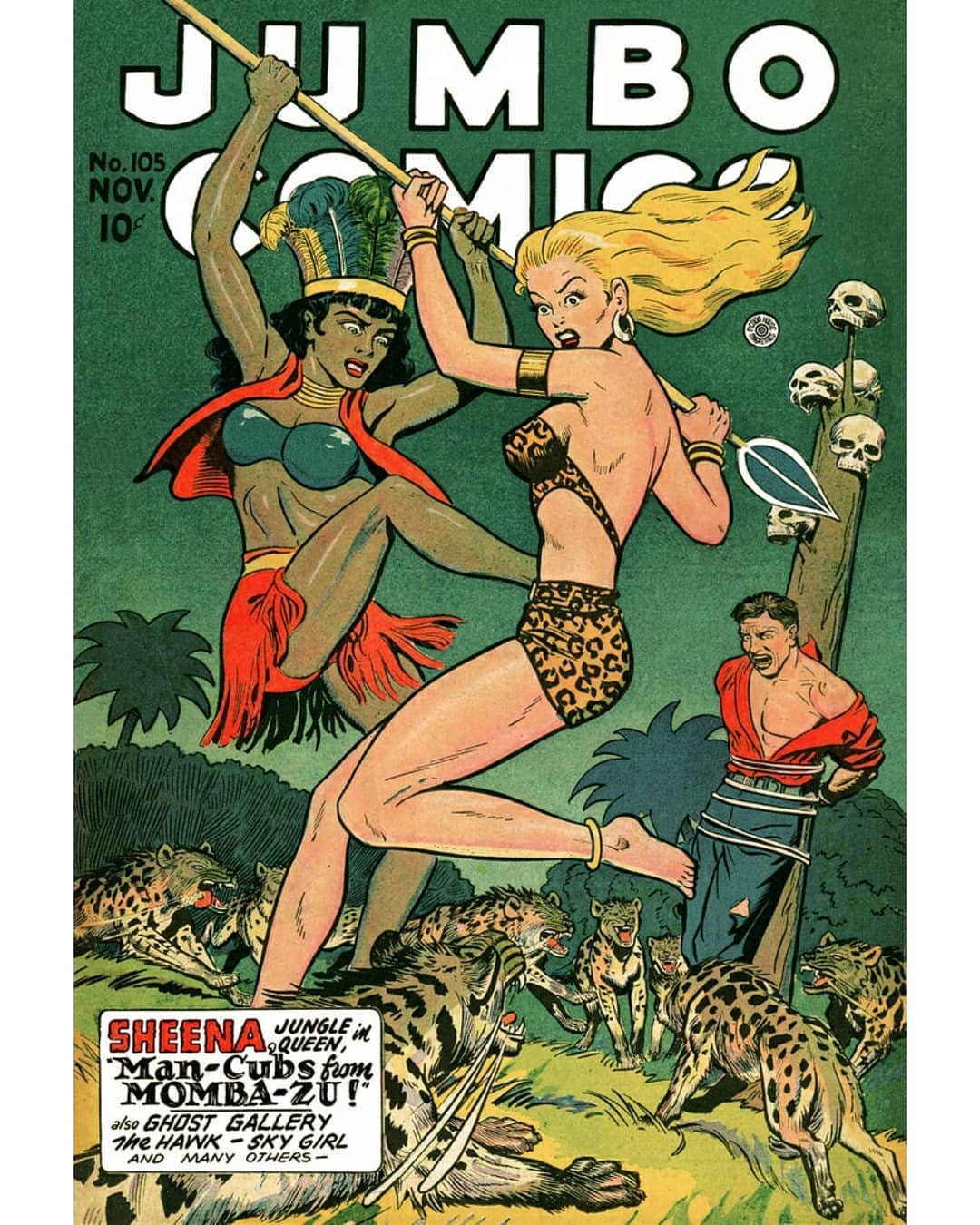 By the late 1930s, Fiction House publisher Thurman T. Scott expanded the company from pulp magazines to comic books, an emerging medium that began to seem a viable adjunct to the fading pulps. Receptive to a sales call by Eisner & Iger, one of the prominent "packagers" of that time that produced complete comic books on demand for publishers looking to enter the field, Scott published Jumbo Comics #1 (Sept. 1938) under Fiction House's Real Adventures Publishing Companyimprint. 
  appeared in that initial issue. Indeed, all the material Eisner & Iger prepared for Jumbo Comics #1 (and the subsequent seven issues) had originally appeared in Wags, which was a tabloid-sized publication. For this reason, Jumbo Comics #1-8 were oversize (10-1/2" x 14-1/2") and exclusively in black and white. (The name "Jumbo" was derived from the oversized publication size.) With issue #9, the title reverted to standard Golden Age comic size (8-1/2" x 10-1/2") and was printed in color. 
 's first published comic-book art is tentatively identified as the uncredited three-page story "A Letter of Introduction," featuring the famed ventriloquist Edgar Bergen and his dummy, Charlie McCarthy, in Jumbo Comics #2 (Oct. 1938). Lou Fine's first published comics art was the strip "Wilton of the West" in Jumbo Comics #4 (Dec. 1938), signed with the house pen name "Fred Sande" (which strip originator Jack Kirby had used in previous issues). 
 Ultimately, Fiction House published 167 issues of Jumbo Comics from September 1938–March 1953.